Beat Takeshi Kitano stars and directs excessively violent Coda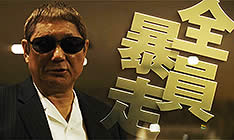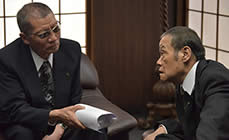 original Japanese title: AUTOREIJI CODA

director: Takeshi Kitano
starring: Beat Takeshi Kitano · Toshiyuki Nishida · Tatsuo Nadaka · Ken Mitsuishi · Yutaka Matsushige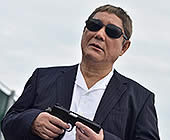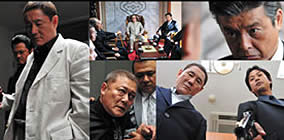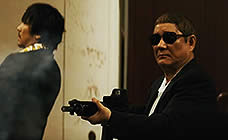 This third (and final) installment in Takeshi Kitano's violent gangster trilogy [preceded by OUTRAGE and BEYOND OUTRAGE] begins somewhat anew, with nary a reference to the earlier films. Even though lead character Otomo appeared to have died at the conclusion of Entry 2, he did not. Rather, now - five years later - Otomo has become a 'fixer' for Chang, a kingpin gangster in Korea. This film opens with a vacationing Japanese mobster roughing up a couple prostitutes belonging to Chang. Otomo is sent to deal with him. A bloodbath ensues. as a result, the aging Otomo and his partner Ichikawa find themselves back in Japan in the middle of a new power struggle with the Hanabishi family.
While the previous entries were excessively violent, this final installment far surpasses them. A mindboggling conclusion has more gun violence and blood splatter than the first two films combined, actually causing the audience to recoil from the excessive mayhem. Seemingly this is the intention of filmmaker Kitano. He knows this movie marks the end of an era and - at the same time - the end of what used to pass for entertainment. It's difficult to justify this kind of causal gunplay as acceptable entertainment in 2017. Like the finale of a fireworks display, Kitano unloads an absolute barrage that [like the title suggests] is a Coda. In fact, during the battle, one of the characters muses "That old fashioned gangster definitely served us well." In this regard, the film is very reminiscent of Kitano's character in Takashi Ishii's GONIN or that of Aniki in his own BROTHER.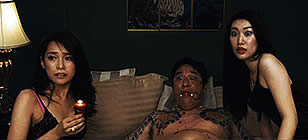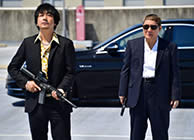 A Japanese film with English subtitles; widescreen format, uncut (104 minutes),
DVD encoded for ALL REGION NTSC WORLD FORMAT; extras include original trailer.