Let The Revenge Fit the Crime!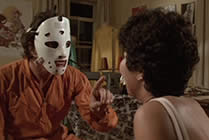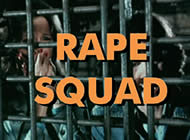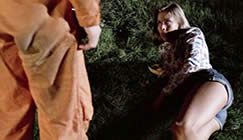 also known as AN ACT OF VENGEANCE

director: Bob Kelljan (as Robert Kelljchian)
starring Jo Ann Harris · Peter Brown · Jennifer Lee · Lisa Moore · Connie Strickland · Patricia Estrin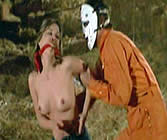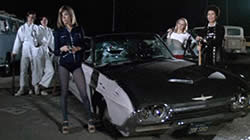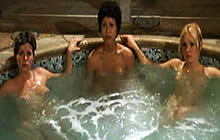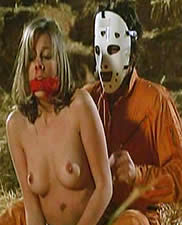 Linda is viciously raped by a man in a hockey mask. When she attempts to report the crime to the police, she discovers that they are less interested in finding the attacker than she expected them to be. At a support center, Linda finds some other women who had been assault and received the same treatment. Together they form a 'rape squad' that begins searching for rapists and (specifically) the hockey-masked assailant. This squad is armed with bottles of acid and they intend to 'let the revenge fit the crime."
   Director Bob Kelljan began his career as a television actor, appearing in numerous episodes of The Twilight Zone, Alfred Hitchcock and Outer Limits. He became a director for American International Studio in the early seventies (he's best known for the blaxploitation horror opus SCREAM BLACULA SCREAM). After this film, he returned to TV as a director, helming episodes of S.W.A.T, Dukes of Hazzard, Charlies Angeles (et al) before his death from cancer in November 1982 at age 52.
Regarding the main female members of the cast, each has a background in American television. However, Jo Ann Harris began her career with the marijuana-grindhouse motion picture MARYJANE (1968) before delving into decades of TV work which included guest shots on Dragnet, Gunsmoke, Mod Squad and Hawaii Five-O. In 1989, she became one of the voice actors for The Simpsons. Ms Harris has since retired from the industry. Co-star Lisa Moore also ventured down the television highway, featured in numerous projects from Mannix to Ironside. She paused only to make a handful of feature films which include this one and the blaxploitation classic HITMAN. Ms Moore died in a car accident April 1989 at age 48. The third actress here is Jennifer Lee who had considerably less experience that her co-stars. She is better known as the wife of comedian Richard Pryor and she worked as his producer for numerous TV and movie productions.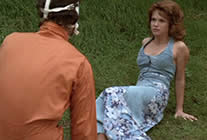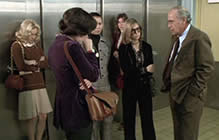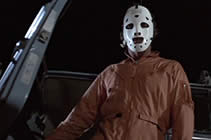 An American film; fullscreen format, uncut version (91 minutes),
DVD encoded for ALL REGION NTSC; extras include theatrical trailer