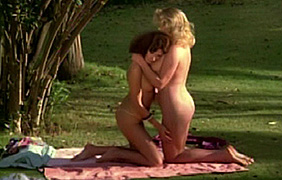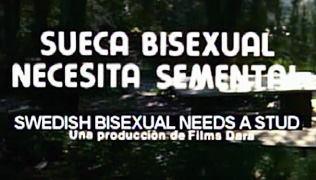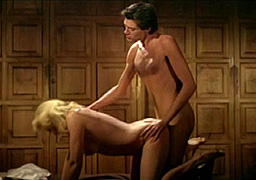 Original Spanish title SUECA BISEXUAL NECESITA SEMENTAL
(Swedish Bi-Sexual Needs a Stallion)

director: Andrea Bianchi with Richard Reguant
starring Marina Hedman (as Marina Fraiese) · Hélène Shirley · Josep Castillo Escalona (as Bruno Merli)
Jordi Batalla (as Jack Battle) · Selene Marquis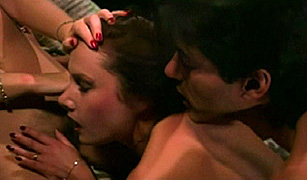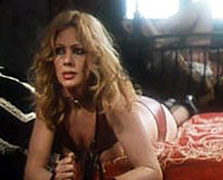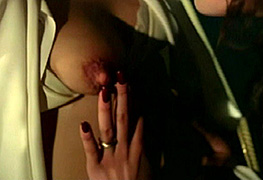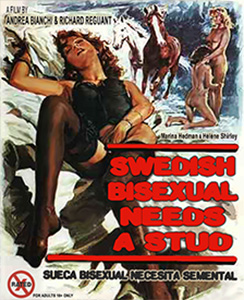 Italian cult director Andrea Bianchi wrote and directed this culturally offensive category "S" film shortly after his notorious zombie opus NIGHT OF TERROR (BURIAL GROUND). The story [co-written with Jose Maria Cunilles, the scripter for numerous Bruno Mattei films including HELL OF THE LIVING DEAD and SCALPS] is a wallowing, offensive variation of the LADY CHATTERLY theme. Here, Felipe is a cultured man who loves life but unfortunately can no longer enjoy it fully due to an accident that has put his unresponsive torso in a wheelchair. His wife Simona is a young and beautiful woman who still pines for the joy of physical love. But this is a hunger Filipe cannot satisfy. She finds sexual satisfaction in the arms of his secretary, a ravishing lesbian named Mirella. Meanwhile, Felipe's son Luis (from a former marriage) joins the household upon his return from America. This is the first time the young man has seen step-mother Simona and the two begin a passionate relationship that results in unfortunate family dynamics.

For this film, Andrea Bianchi teamed with French scripter Richard Reguant [writer of HOT GIRL JULIET, HOT AND CRUEL, MAD FOXES et al)]. It would be his first time in the director's chair. On the other hand, Andrea Bianchi brought much experience to the project. He was a popular genre director responsible for a wide variety of exploitation films including CONFESSIONS OF A FRUSTRATED HOUSEWIFE, STRIP NUDE FOR YOUR KILLER, CRY OF THE PROSTITUTE and the aforementioned BURIAL GROUND. After SWEDISH BISEXUAL, he delved into hardcore (XXX) with Sirpa Lane's EXCITING LOVE GIRLS and Karin Schubert's MORBIDLY YOURS. Andre returned to horror and sleazy thrillers with MASSACRE, GILDA, MANIAC KILLER and [his final movie] FLESHY DOLL before retiring from filmmaking in 1995 at age 70. Afterwards, he lived quietly in Paris [where he became a village mayor and refused to talk about his films] until his death in 2013 at age 88.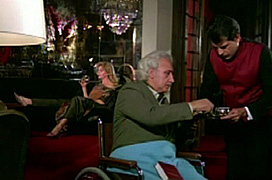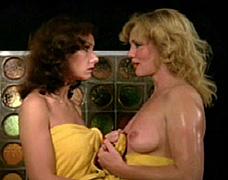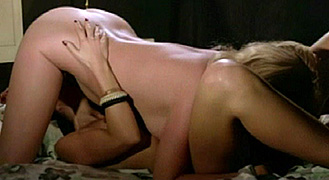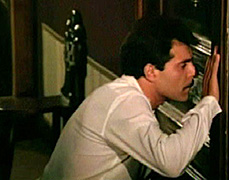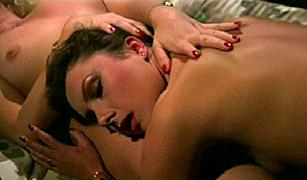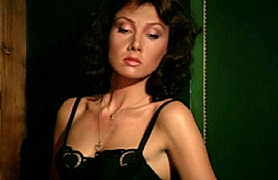 A Spanish movie with optional ON/OFF English subtitles;
widescreen format, (98 min.), in DVD format, encoded for NTSC ALL REGIONS,
playable on any American DVD machine. Extras include theatrical trailers.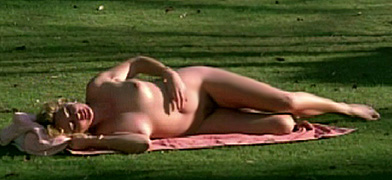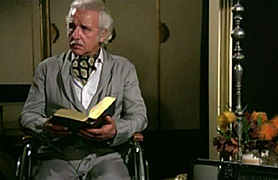 Male and Female Nudity/Strong Sexual Situations/Ledbian Theme
for Adult Audiences Only