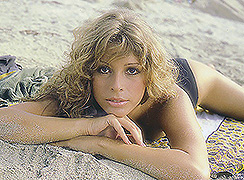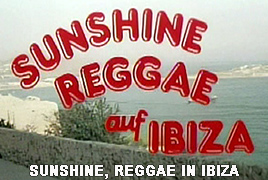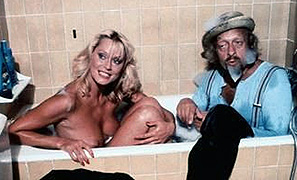 original German title SUNSHINE REGGAE AUF IBIZA [Sunshine, Reggae on Ibiza]

director Franz Marischka (as Francois Petit)
Karl Dall · Olivia Pascal · Chris Roberts · Bea Fielder · Jacqueline Elber · Isa Haller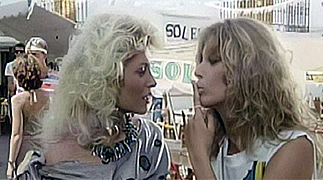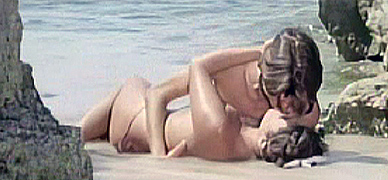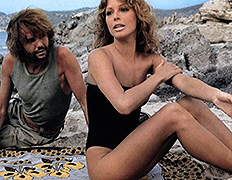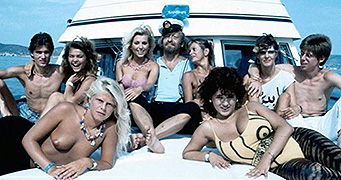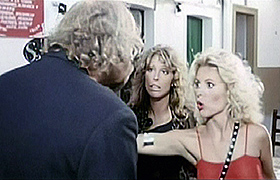 Here is the last Oliva Pascal sex comedy (fun in the sun) before moving to TV with the Saturday Night Live-esque sketch comedy/music series BANANAS. This one also features the famous rubber-faced comedian Karl Dall in an unforgettable role. The movie - very similar to other Euro hits like COLA CANDY CHCOLATE, SUMMER NIGHT FEVER, POPCORN AND ICECREAM and [of course] BEAUTIFUL AND WILD IN IBIZA - concentrates on sight gags, naked bodies, sex jokes and an abundance of enduring characters. The central plot [within competing side stories] deals with an older dimwitted farmer in Germany named Karl who becomes obsessed with pop singer Linda Lu. When she responds to his adoring fan-mail with a standard signed photograph, Karl embarks on a trek to the party-island Ibiza, off the coast of Spain, where she is currently touring. But young Linda Lu could never be attracted to somebody like Karl, so she and her entourage treat him like a sugerdady, fleecing his last few dollars with a night on the town. Now, without money, Karl is forced into numerous disastrous jobs - from waiter to photographer - all of which somehow bring him closer to Ibiza's hedonistic lifestyle.

This would be the final movie for renowned director Franz Marischka, 50+ films between 1959-83 including the Edwige Fenech hippie/sex comedy LET IT ALL HANG OUT, before retiring. He died from natural causes February 2009 at age 90.

As with most all of the German sex comedies from this period, music is one of the more memorable components. The title song "Sunshine Reggae" by Laid Back is an ear-worm that will stay inside your head for days. Interestingly, due to licensing issues, that song [and others in the movie] were replaced for subsequent video releases. However, please note, this is the theatrical print with the original soundtrack. By the way, the revised credit sequence and audio is included here as bonus material. as