"Watch out!
The greatest and worst movie of all time!"
--Asian Cult Cinema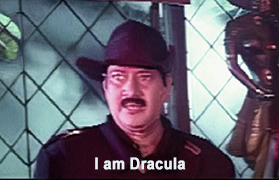 ††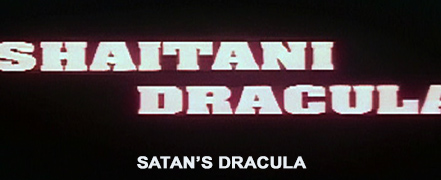 †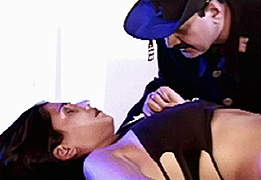 original Hindi title SHAITANI DRACULA (Satan's Dracula)

director Harinam Singh
starring Shweta ∑ Harinam Singh ∑ Somiya Jaya ∑ Vivek ∑ Kanhaiya ∑ Shabnam Pooja Asha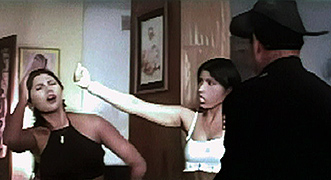 †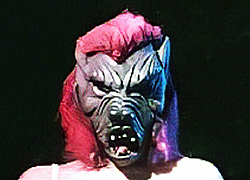 †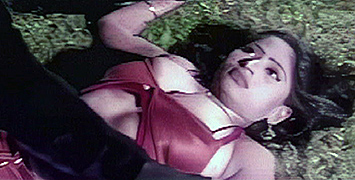 Director Harinam Singh plays Dracula, a vampire now living in a remote Indian villa shrouded by a dark woods. He is the royal boss with two female vampire slaves at his side. Outside the walls of his home, an array of monsters [a werewolf, a skeleton, demons and witches] constantly wander about looking for humans to torment and kill. When a group of campers from the local college arrive, Dracula realizes that one of the young women - Sheetal (played by Shweta) - is the reincarnated spirit of his girlfriend from 600 years prior. He attempts to seduce Sheetal, bringing her into his demonic fold as the new Lady Dracula. But she draws upon her strong Christian faith and challenges Dracula with a cross and Holy Bible.

This is the real deal, a movie so bad that it transcends into greatness. "It is a film so far beyond the pale of anything we can recognize as a movie that one can hardly call it a movie. An experience, perhaps. Enlightenment," wrote Diabolique's Keith Allison. "You can try to blink the crazies away," says Dan Budnik of Bleeding Skull "but this film wonít let it go. Itís a childís vision of a vampire movie that verges on a wet dream of epic proportions." And Wayne Butane exclaims "It's a perfect storm of filmmaking incompetence." That's probably the best description.
This project is something of a true rarity: a movie that should not exist, made by someone who is clearly out of his element, lacking most every necessary filmmaking technique [from focus to continuity], yet Singh manages to dazzle the audience with his off-kilter anti-diligence. Simply, this kind of entertainment cannot be created by someone who is a competent filmmaker, it will inevitably backfire [look at Roger Corman's GAS!, Otto Preminger's SKIDOO, Joseph Losey's MODESTY BLAISE or even Rob Zombie's MUNSTERS]. As Erich Kuersten said in his brilliant Acidemic Journal of Film article: "Take non-stop focus problems, mixed-up time frames, interchangeable actors [and costumes], inscrutable dialogue, then stir, rinse and assemble with a rusty splicer and a blindfold. The resulting mess can set you free." This is a mind-trip you will never forget.
Please note: This print has optional ON/OFF English subtitles.
The original release date was 1998, with a running time of 80 minutes.
It was re-released as a 62 minute film in 2004. This print is a fully uncut composite version.

As a point of reference, deleted scenes are
briefly identified on screen, upper left corner (see pic below, center).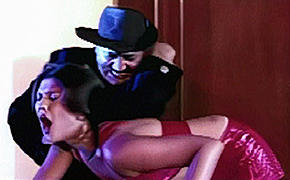 †††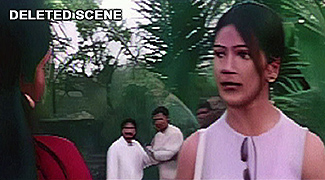 ††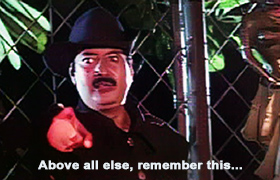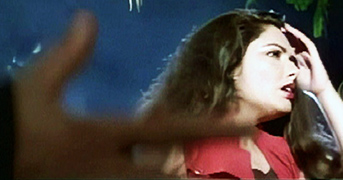 ††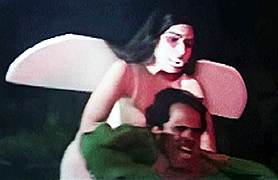 †††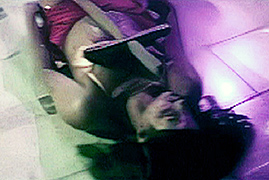 A Indian/Hindi film with optional (ON/OFF) English subtitles; widescreen format,
(80 min.), DVD encoded for ALL REGION NTSC, playable on any American machine.
_______________________
Extras include a music video directed by Harinam Singh.
The screenshots below are from Singh's music video for the song
BHUTON KA ITEM (Ghost Story)
by acclaimed Yoga instructor/singer Sharma Pratishtha