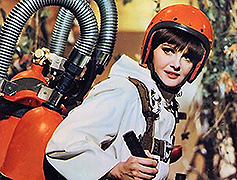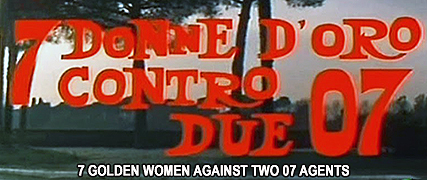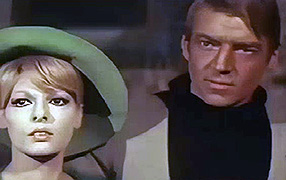 original Italian title 7 DONNE D'ORO CONTRO DUE 07
also known as 7 GOLDEN WOMEN: TREASURE HUNT

director Vincent Cashino [Vincenzo Cascino]
starring Mickey Hargitay · Luciana Paoli · Maria Vincent · Paola Mariani · Paricia Mendez · John Loodmere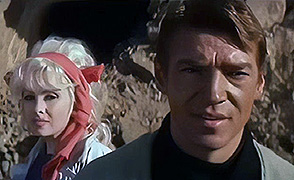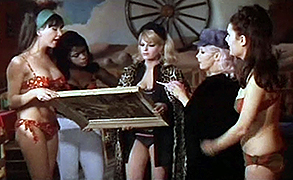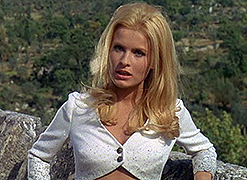 Mark Davis is an American secret agent, code name 07 (played by Mickey Hargitay, real life husband of Jayne Mansfield). Mark is on assignment to find a hidden Nazi treasure in Europe. Seemingly, a clue to its location has been etched onto a Goya painting that is currently up for auction [incidentally, the auctioneer is Martin Borman, notorious Nazi henchman played here by Geoffrey Copleston]. Somehow the plot meshes into a caper involving seven beautiful spies - each with their own Goya paintings - and Mark's skill in art forgery and sexual seduction, two necessary skills in helping him find the gold.

Vincenzo Cashino was a wealthy Argentinean industrialist who moved to Italy to make movies. This was his only attempt in the director's chair. He had a bit more success as a scriptwriter, best known for writing Renato Polselli's spaghetti western THE SHERIFF WON'T SHOOT which also starred Mickey Hargitay. Mickey made numerous films in Europe, often starring with Jayne Mansfield [LOVES OF HERCULES, PRIMITIVE LOVE, et al]. Mr Hargity died at age 80 from Multiple Myeloma September 2006.