The Complete Brutal Saga
Four Uncut Films on Four Discs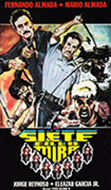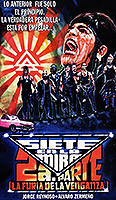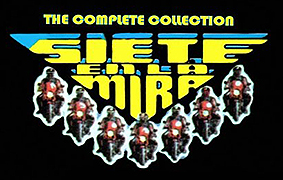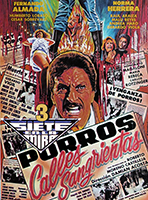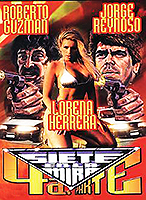 SIETE EN LA MIRA [SEVEN IN SIGHT] (1984-90)
also known as SEVEN TARGETS and ON THE LOOKOUT FOR THE SEVEN
and SEVEN ON THE LOOKOUT and SEVEN IN VIEW and SEVEN IN THE CROSSHAIRS
director Pedro Galindo III and Damion Acosta Esparza
Mario Almanda · Jorge Reynoso · Fernando Almada · Agustín Bernal · Roberto 'Flaco' Guzmán · Lorena Herrera
_____________________
Here is the legendary four-part series known for its nihilism and non-flinching brutality. The first two episodes are directed by Pedro Galindo III, one of Mexico's best Grindhouse filmmakers (e.g., PANIC ON THE MOUNTAIN, VACATION OF TERROR, HELL'S TRAP, et al). The remaining two sequels are helmed by exploitation kingpin, Damian Acosta Esparza, the notorious sleazemeister responsible for DAMNED RAPIST [Infernal Violador], INTREPID PUNKS and 35 more.
FILM 1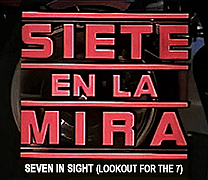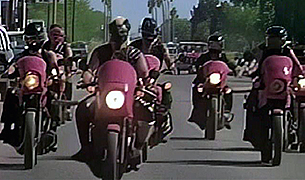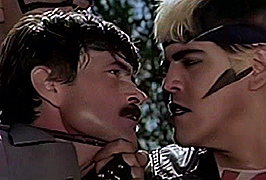 SEVEN IN SIGHT [Siete en la Mira] (1984) 90 minutes | Widescreen

director Pedro Galindo III
Jorge Reynoso · Fernando Almada · Adalberto Arvizu · Diana Ferreti (as Diana Gay) · Fernando Benavides
When a violent biker gang decides to make a stop in a quiet Mexican border town, Sheriff Ventura (Mario Almada) confronts the leader, Viking (Jorge Reynosa), with stern 'just keeping moving' advice. But they don't. In fact, after a night of wild partying, one of them brutally rapes and kills a local woman. A deputy [vigilante-style] shoots the biker and puts the blame on the town mechanic. The bikers demand justice and cry for an immediate lynching. When Sheriff Ventura stands against them, the gang takes over an elementary school and starts killing kids, forcing the sheriff into a brutal showdown.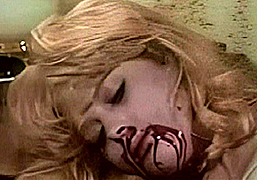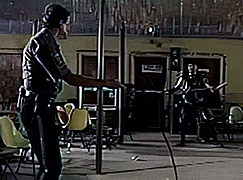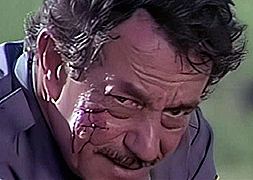 _______________________________________
FILM 2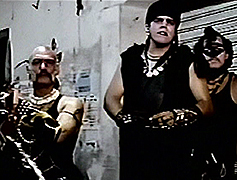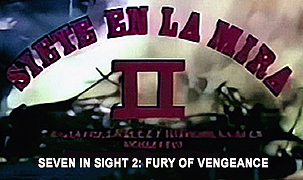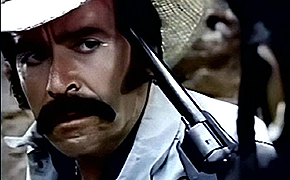 SEVEN IN SIGHT 2: FURY OF VENGEANCE (1986) 94 minutes | Widescreen

director Pedro Galindo III
Jorge Reynoso · Beatriz Bauche · Agustín Bernal · Miguel Gómez Checa · Gerardo Zermeño · Nora Torrero
Director Galindo continues his brutal saga with this 'outcasts-vs-society' story, a direct sequel to the first entry in this series, featuring a vague supernatural element. The older brother of Viking [the gangleader from #1, again played by Jorge Reynosa here] vows to take vengeance against Sheriff Ventura and his entire family for the death of his sibling. The only surviving cop-brother in the Ventura family is Humberto (Alvaro Zermeño). He soon becomes both prey and hunter in a deadly battle against the vitalized Judas in this surprisingly good sequel.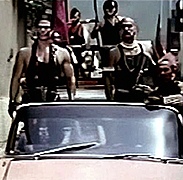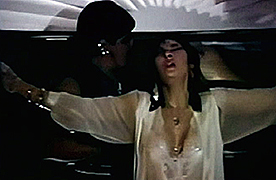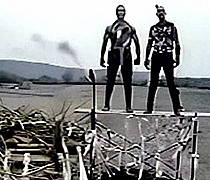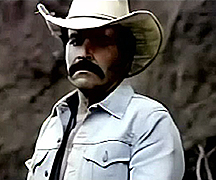 _______________________________________
FILM 3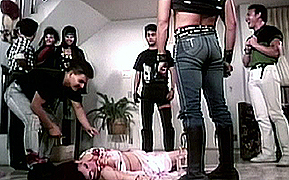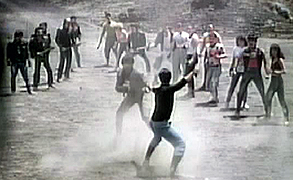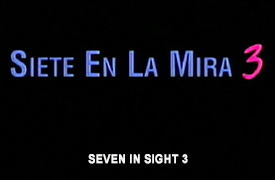 SEVEN IN SIGHT 3 [Siete en la Mira 3: Calles Sangrientas (Bloody Streets)] (1988) 86 minutes | Fullscreen

director Damion Acosta Esparza
Fernando Almada · Norma Herrera · Gerardo Vigil · Raúl Araiza · Malú Reyes · César Sobrevals · Honorato Magaloni
Grindhouse filmmaker Esparza takes over the series with this extreme nihilistic entry, concentrating on kinetic violence. The Zulu motorcycle gang [from the previous two entries] is gone, replaced byThe Porros hard-edged delinquents who essentially 'own' the high school campus and the streets surrounding it. The leader is cocky Malvido (Gerardo Vigil). Under his command, gang members are dealing drugs, bullying homosexuals, robbing buses, beating faculty members, waging gangwars and [specifically] grimly raping/killing a teacher who snitched on them. Literature professor Andres Robles (Fernando Almada) retaliates after the gang is responsible for the death of his daughter.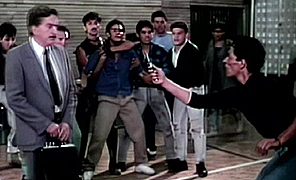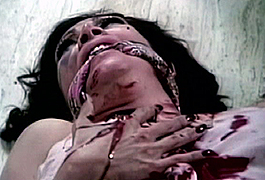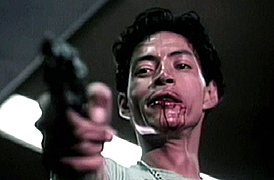 _______________________________________
FILM 4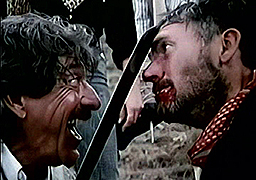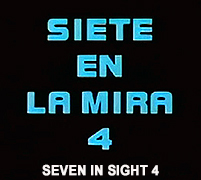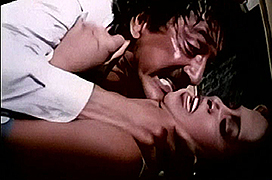 SEVEN IN SIGHT 4 (1990) 87 minutes | Fullscreen

director Damion Acosta Esparza
Roberto 'Flaco' Guzmán · Jorge Reynoso · Julieta Rosen · Lorena Herrera · Carlos East · Maria Bardahl
For the final entry in this legendary saga, director Esparza drops all the delinquent-motorcycle-gang stuff in favor of blatant in-your-face human conflict [while strongly intensifying the sleaze factor]. The story - similar to a Spaghetti Western's 'Town Boss' theme - finds a remote bordertown as the prize for two warring crime cartels. Jorge Reynosa, last seen as the villain in #1 and #2, plays the good guy here. He's an ex-cop determined to protect remaining family members from marauding killers who recently broke out of prison and have vowed to wreck havoc in the unprotected town.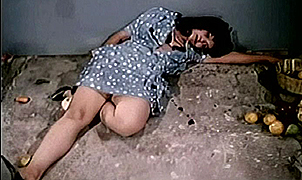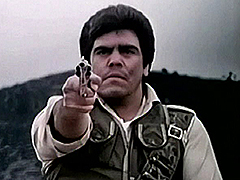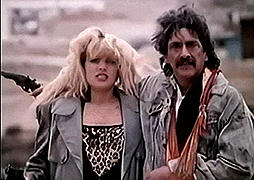 _______________________________________
Four uncut Mexican films with optional English subtitles; on Four discs; widescreen and fullscreen, 90+94+86+87 minutes;
DVD encoded for WORLD FORMAT NTSC, playable on any American machine.
Extras include SIETE trailers