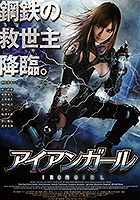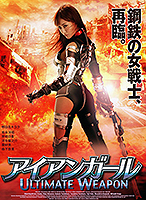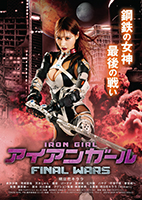 TRILOGY [ON THREE DISCS]
IRON GIRL (2012) 84 MINUTES
IRON GIRL: ULTIMATE WEAPON (2015) 92 MINUTES
IRON GIRL: THE FINAL WARS (2019) 89 MINUTES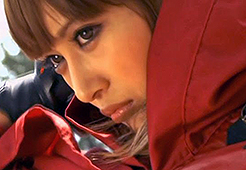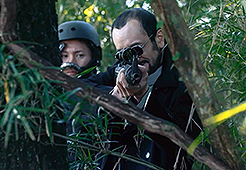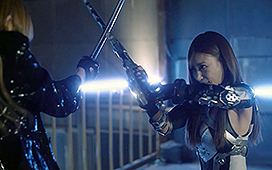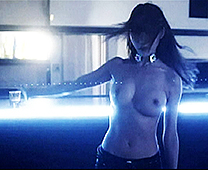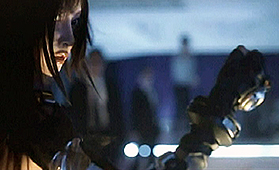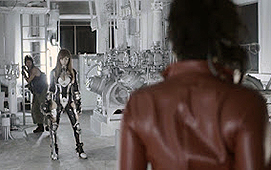 1   IRON GIRL (2012)
director: Masatoshi Nagamine
Kirara Asuka · Rina Akiyama · Mickey Koga (Mitsuki Koga) ·Yasuhisa Furuhara · Yûji Kido
The world has fallen into zones, each controlled by different political factions, the Just [a peace-loving, but technologically inferior group] and the Crazy Dogs [a wild, power-hungry warring faction]. The bad guys are led by Crazy Jo (Mitsugi Koga), a brute who simply wants to destroy the weaker civilization. The secret protector of the "hippies" is Kurisu [Chris] Saotime, an extreme fighter known as the Iron Girl played Kiara Asuka. She is strong, heroic but cursed by amnesia.

2  ULTIMATE WEAPON (2015)
Dir: Kenichi Fujiwara
Star: Kirara Asuka · Asumi · Hiroaki Iwanaga · Asuka Kishi · Ryunosuke Kawai · Kento Ryuzaki
It's loosely the same setting as the first film. Japan (perhaps the world, as well) has imploded into a country of fiefdoms controlled by bounty hunters and bandits. Chris Saotime, the heroic Iron Girl, is one of the legendary bounty hunters. She's attempting to raise enough reward money to buy a device that will restore her memory. Her conquests eventually put Chris at odds against the evil Sparti gang and its leader, Poison (effectively played by Asumi).
3  IRON GIRL: THE LAST WAR (2019)
Dir: Kenichi Fujiwara
Kirara Asuka · Saki Akai · Jun Amaki · Asami · Ke Maeda · Takaya Aoyagi
This final entry in the Iron Girl trilogy finds Chris Saotime still looking for [and ultimately finding] a key to her lost memory. Essentially, it has to do with a friend and potential rival named Sara (Saki Akai). Popular genre starlet Asami returns as adversary Poison, the Sparti leader. The action boils to the top in an impressive three-way battle between the machines, the military, and humans... resulting in a memorable close to the trilogy.
Director Kenichi Fujiwara takes over the series with the second film and his expertise is obvious from the opening shots. He understands action cinema and manages to get the most from the genre. He has also spent a decade working with his star Kirara Asuka, since the 2011 Sasori (Scorpion) TV series Female Prisoner No. 701. Before that union, Mr Fujiwara helmed the popular genre pics HITWOMAN IN CHAINS and ZERO WOMAN R.
Three complete Japanese movies with optional English subtitles; widescreen format, uncut 165 total minutes,
DVD encoded for ALL REGION NTSC WORLD FORMAT.
Extras include original theatrical trailer.