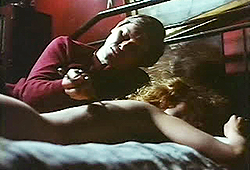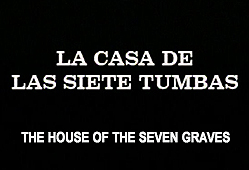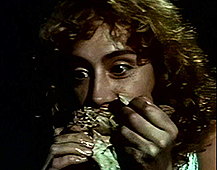 original Argentinean (Spanish) title LA CASA DE LAS SIETE TUMBAS [House of the Seven Graves]

director: Pedro Stocki
starring: Soledad Silveyra · Miguel Angel Solas · Maria Rosa Gallo · Cecilia Cenci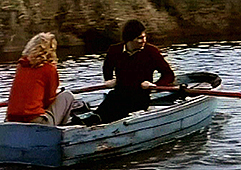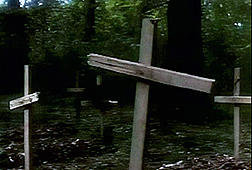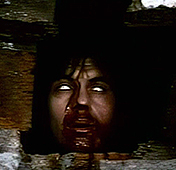 "One lady goes on a cursed holiday with her boyfriend losing themselves in the backwoods while her childhood friend recluses herself in her house going insane, alternating between babbling curses at her friend which seem to become reality, and remembering childhood traumas and scary stories about witches. There's a witch that burns cats and enslaves or abuses men, some of which she throws down a well, a mentally-challenged pig-girl who humps mud, random men on horseback with swords, random skulls in a dovecote, random graves, a lady lusting after a stinking horseman, etc. The time of day and location have no meaning here."     quote from The Worldwide Celluloid Massacre
Here's a film that exists in a world very similar to that of Jose Ramon Larraz (especially his foreboding thrillers like WHIRLPOOL and SCREAM...AND DIE. It all plays out like a nightmare
or an uncomfortable drugtrip where the pieces are all there but they don't seem to match. While this movie found success in Europe and South America, it failed to spark in the United States where an X Rating hampered any major distribution.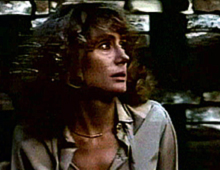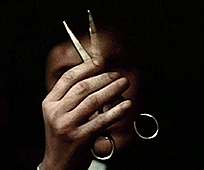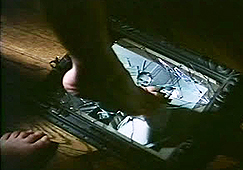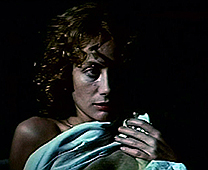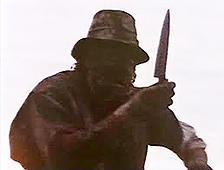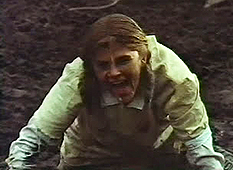 An Argentinean film in Spanish with optional English subtitles; fullscreen format,
uncut 90 minutes, DVD encoded for ALL REGION NTSC WORLD FORMAT.
Extras include theatrical trailers.
Violence/Nudity/Drugs/Adult Material:
Intended for Adult Audiences