The Most Reprehensible and Offensive Exploitation Film Ever Made!
Over-the-Top Violence and Sleaze ... Too Mean-Spirited For Most Viewers!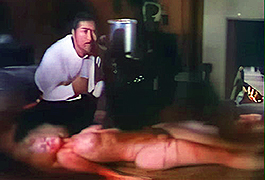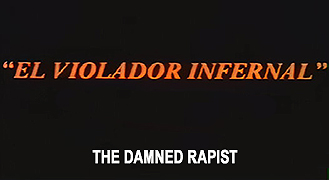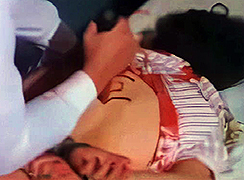 also known as INFERNAL RAPIST and RAPIST FROM HELL

director: Damián Acosta Esparza
starring: Noé Murayama · La Princesa Lea · Ana Luisa Peluffo · Marisol Carvantes · Manuel 'Flaco' Inbanez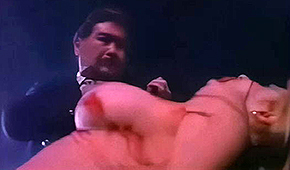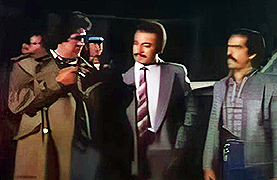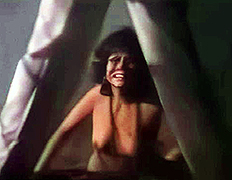 As the film starts, notorious criminal Carlos 'El Gato' is executed in a prison electric chair. Pronounced dead, he is left to stew in his juices while all the authorities leave the room, giving the Devil [and her two buxom sidekicks] an opportunity to materialize in the darkness. She approaches Carlos with an offer he can't refuse... a new eternal life of pleasure and excess. What must he do in exchange? Simple. Rape and kill everyone he meets. And then [this is VERY important] give honor to her by carving 666 into the flesh of the victim. A blood orgy of violence, drugs and sex is put into motion, extending for the entire length of the movie. It all begins [shockingly] with a homosexual rape'n'slaughter and accelerates into some of the most misogynistic sexual violence ever portrayed on the screen.
If it's not obvious already, this film is NOT for everyone. Quite the opposite, actually. But it's a must-see for fans of outrageous exploitation.
A CLOSER LOOK AT THE BACKGROUND DETAILS
Of course, one of the more surprising things about this movie is it comes from Mexico, a country better known for rather conservative censorship enforcement. However, this film manages to exist within a rather limited period of "increased intellectual freedom in Mexico." This cultural revolution began in the mid '70s under the presidency of Luis Echeverria Alvarez when he appointed his brother Rodolfo as the head of the newly formed, state-owned National Film Bank (giving the government a financial stake in every movie produced in Mexico). "We now have the only nationalized film industry in the world, giving the directors total freedom to do as they like," said the left-wing president.
The studios began producing movies - cautionarily, at first - that openly dealt with previously taboo subjects, especially sex and violence. This cinematic freedom continued for a decade until the election of Carlos de la Madrid, a man who found himself overwhelmed by scandals and tragedies during his presidency (1988- 94) [numerous political assassinations, his brother's drug bust, election fraud, declining economy]. In an attempt to boost his popularity, President de la Madrid rekindled a severed relationship with the Catholic Church and began a crackdown against excess in cinema. Grindhouse Mexploitation was banned by the mid '90s.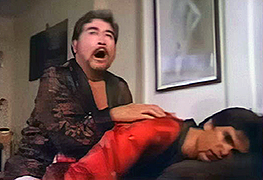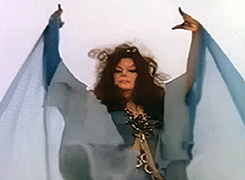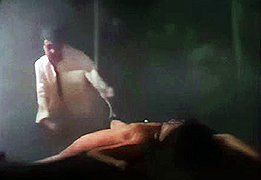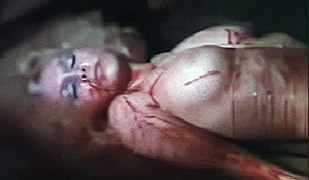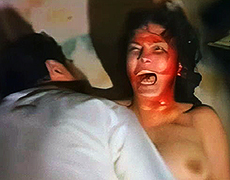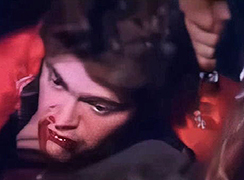 A Mexican film in Spanish with optional English subtitles; fullscreen format, uncut 84 minutes,
DVD encoded for ALL REGION NTSC WORLD FORMAT. Extras include theatrical trailer.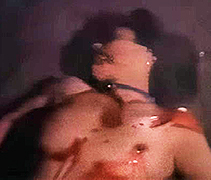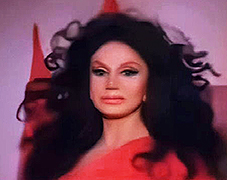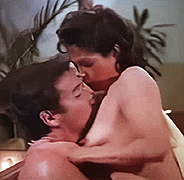 Nudity/Strong Sexual Themes/Rape/Drugs/
Graphic Violence/Gore/Sexual Brutality
for Adult Audiences