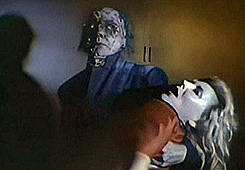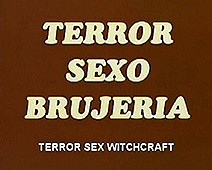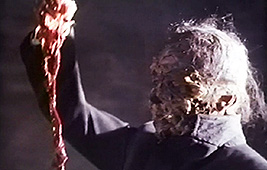 original Mexican title: TERROR SEXO BRUJERIA [Horror Sex Witchcraft]

director: Rafael Portilo
starring: David Reynoso · Ana Luisa Peluffo · Gonzalo Aiza · Beatriz Aguirre · Roberto Canido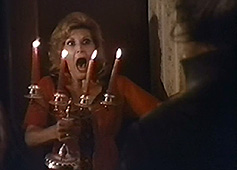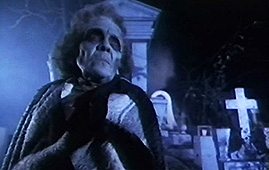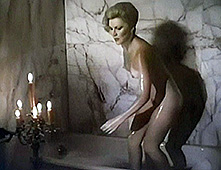 Take a dive into the subterranean world of Mexican Grindhouse exploitation with this mind-boggling movie. The story deals with a haughty woman who seeks guidance from a Satanist fortuneteller and is willing to do anything to get the man she lost to a younger blonde. She makes a deal with the devil to regain sexual vibrancy and put a permanent end to her rival. Of course everything spins out-of-control when the lady's ex-boyfriend is plagued with a demonic split personality, gets arrested for murder and unleashes zombies from the darkside.
Director Rafael Portilo delivered this trash film in 1983, comprised of chunks from his earlier 1968 flop Cautivo del Mas Allá (Captives of the Beyond) mixed with tons of new horror footage [including the pact with Satan and all the cemetery/zombie stuff] plus graphic gore and a generous amount of full frontal nudity. The movie was a hit in the sleaze-row theaters but caused the Mexican censors to reassess their newly adopted liberal position, ultimately making it more difficult for exploitation cinema in the future.
Interestingly, Rafael Portilo was something of a vet in filmmaking, having helmed movies from the mid '40s [until his death in 1995] including a collection of horror films referred today as the AZTEC MUMMY trilogy.