Two Complete Versions on Two Discs
Original Mexican Version [93 min] (with English subtitles) and English Language edit [85 min]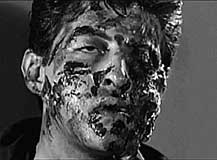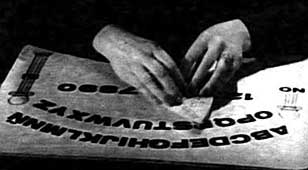 Original Mexican Title: ESPIRITISMO [Spiritism]

director: Benito Alazraki [English version by K. Gordon Murray]
starring: Jose Luis Jimenez · Nora Veryan · Beatriz Aguirre · Alicia Caro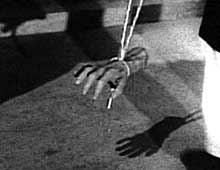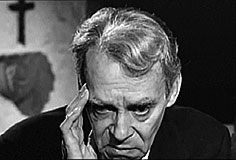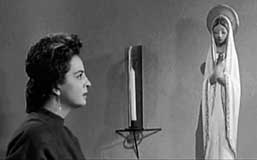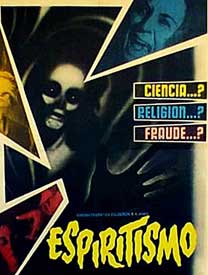 This film is widely recognized as "among the best of the Mexican horror films" [if not the best]. Most critics are also quick to mention that it's an adaptation of the W W Jacobs' Monkey's Paw story. But, while that theme does come into play during the last half hour, there is actually much more going on here [probably a good reason to watch the uncut Spanish version (with English subtitles) instead of the shorter English Language edit].

A dinner party takes a turn for the worse when Louis and Mary Howard take part in a seance. The medium, Elvira, warns them that tragedy will enter their lives on April 8, the result of "an encounter with inhuman creatures wielding extraordinary powers." As it turns out, on that date, son Rodolpho asks for a $40,000 loan to start his new business venture. They refinance their home to give him the money. And, sure enough, tragedy soon follows.
Workhorse director Benito Alazraki had just previously made FRANKENSTEIN, VAMPIRE AND COMPANY, his knockoff of Abbott and Costello Meets Frankenstein [yes, Universal sued and kept that one from entering the USA]. A year later, in 1962, he helmed SANTO VS THE ZOMBIES. Mr Alazraki died from a heart attack at age 85, June 2007, after making 40 films.

This package contains both the original Spanish version (with optional English subtitles, widescreen) and the English dubbed print, edited and fullscreen, but with some additional scenes shot in Miami by K. Gordon Murray.