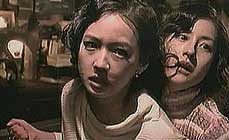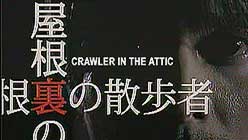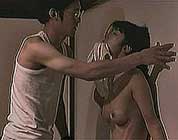 Original Japanese title YANEURA NO SANPOSHA [Watcher in the Attic]

director: Shoji Kubota
starring: Noriko Kijima ˇ Yuki Maniya ˇ Kota Kusano ˇ Yasushi Fuchikami ˇ Ryűnosuke Kawai ˇ Yoshimasa Kondô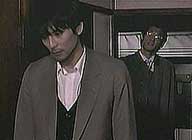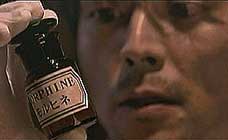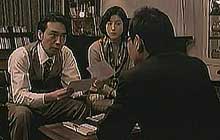 Private detective Akechi Kogoro (Kota Kusano) accepts a surveillance case for client Naoko Kuroki (Yuki Mamiya). She is rich and influential, the daughter of a family that owns a hospital in Tokyo. Through her upcoming marriage, fiancé Doctor Yukio Endo (Yasushi Fuchikami) is set to become the hospital's new CEO. However, Naoko has serious misgivings over their compatibility, especially because of their disastrous sex-life [he is unable to have an orgasm]. She wants Detective Kogoro to investigate the possibility of him having an affair. As it turns out, fiancé Endo is being unfaithful, deeply involved in a brutal S&M/sex with medical student Teruko Ouchi (Noriko Kijima). Shortly after the client is given the disturbing details, Dr Endo is found dead in his apartment, seeming the victim of a Morphine suicide. But Detective Kogoro believes he may have been murdered... possibly by his client.
Based on the original murder/mystery by legendary writer Edogawa Rampo, this film plays homage to the Nikkatsu WATCHER IN THE ATTIC while managing to use the familiar elements of that film without compromising the intricate murder mystery at the heart of the story. Essentially, this is Rampo's story, finally brought to the screen as a truly satisfying who-dun-it. The Japanese critics called it one of the best films of 2016. And it certainly is. Perhaps this shouldn't be a surprise. Director Kubota - a student of Edogawa Rampo - has spent the past ten years developing Rampo's world and fine-tuning its characteristics. He has made other movies with Detective Akechi Kogoro, including Lost Love Murder and Murder on D Street.
Noriko Kijima (playing masochist Teruko here) became an overnight sensation after her performance as Yoshie in 2008's MACHINE GIRL. Prior to this movie, she thrilled her fans with the outrageous IRON MAIDEN: FEMALE ACADEMY TORTURE CLUB (2015).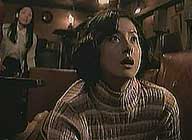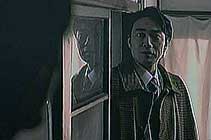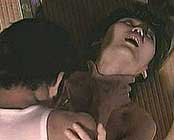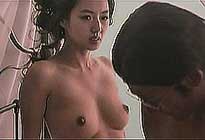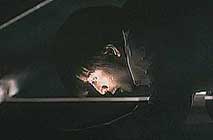 A Japanese film with optional English subtitles; original widescreen format,
a bit of minor fogging (see bellow, right) totally uncut at 112 minutes, ALL REGION NTSC,
playable on any American machine; extras include theatrical trailer

Violence/Nudity/S&M/Sexual Brutality/Drugs:
for Mature Audiences only