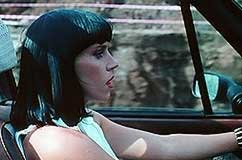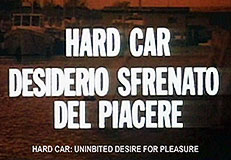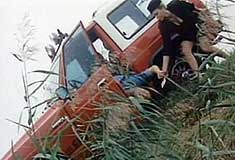 original Italian title HARD CAR: DESIDERIO SFRENATO DEL PIACERE [Hard Car: Uninhibited Desire for Pleasure]

director: Pasquale Fanetti (as Frank De Niro) with Giovanni Amadei
starring: Valentine Demy · Alessandro Freyberger · Carmen Di Petro (as Carmel) · Cristina Rinaldi · David D'Ingeo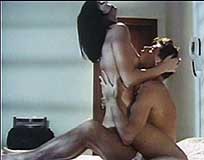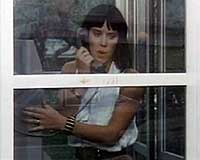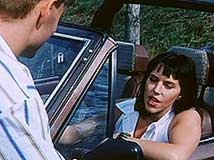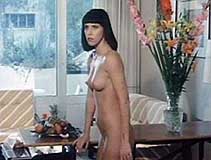 Anja accidentally witnesses the brutal murder of a woman in the office of her boss [and boyfriend] Hector. Fearing that she's been seen, Anja goes on the run, chased by a deadly SUV and a mysterious driver bent on killing her. As she desperately tries to escape the pursuit of the maniac hunter, Anja falls prey to a world of humiliation, fear and rape. During her frantic flee, she also experiences sobering sexual passion from two unlikely sources.
This movie - perhaps the true definition of a guilty pleasure - is an exquisite mess. Originally helmed by noted cosmetic/makeup artist Giovanni Amadei [best known for his work with Pupi Avati, including HOUSE WITH THE WINDOWS THAT LAUGH], it ran into trouble from the start. After only a few weeks, everyone realized Amadei's directorial style was as haphazard as his script. The studio moved cinematographer Pasquale Fanetti into the director's chair. He was a noted cameraman who had already established himself as a filmmaker [under the pseudonym Frank De Niro, with such movies as LADY EMANUELLE and TELEPHONE SEX, ROSE PETALS AND THE INVISIBLE MAN] and was the smart replacement. Pasquale also had a great relationship with Valentine Demy, having worked with her [as cinematographer] over the past year (notably GILDA, ROSE BLU LIGHT and FEMMINE). She trusted his camera and he managed to capture one of her best performances here. While the movie itself still suffers from Amadei's confused narrative... It looks great. It's erotic. It's lurid.. And breathtaking sleazy.
Born in 1963, Marisa Parra was a bodybuilding model who changed her name to 'Valentine Demy' after being discovered by Joe D'Amato and Mario Gariazzo in 1988 [a name inspired by VALENTINA, the character created by Guido Crepax]. After her debut film INTRIGUE OF LOVE she made D'Amato's HOT VOODOO AFTERNOON, setting the stage for OBSESSION: TASTE OF FEAR and LAST EMOTION, then followed by her work with Lorenzo Onorati. Eventually, as she aged, the parts became less desirable. After finding herself in a relatively inconsequential role for Frank Di Niro's LOLITA FOREVER(1991), Valentine Demy decided to delve into hardcore XXX porn [CRIME IN RED LIGHTS].
An Italian film with optional English subtitles, uncut 70 min, widescreen,
encoded for ALL REGION, playable on any American DVD machine.
Extras include selected trailers.