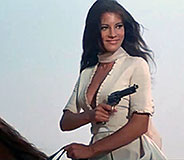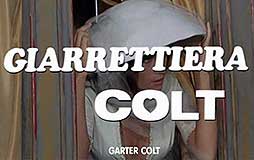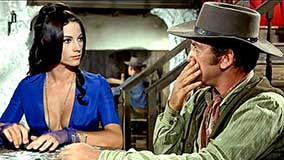 original Italian title GIARRETTIERA COLT [Garter Colt]

director: Gian Rocco
starring: Nicoletta Machiavelli · Claudio Camaso · Marisa Solinas · Yorgo Voyagis · Walter Barnes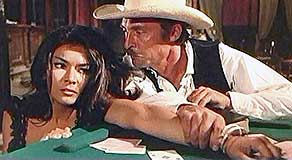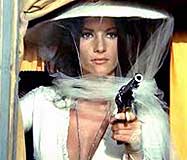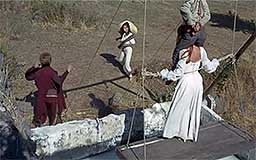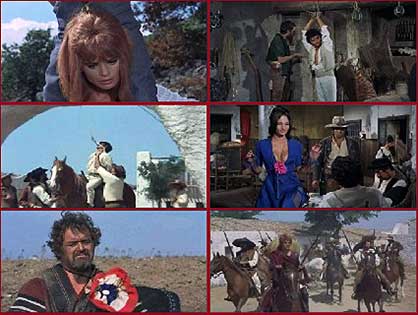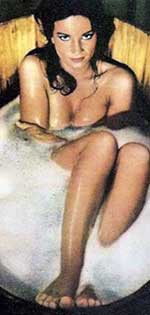 A female gambler named Lulu successfully defends herself from a bandit's sexual assault. Lulu later falls in love with a young French settler who asks her to give up the gambling and start a quiet life with him. But when he is killed by the bandit, Lulu is determined to seek revenge.

The movie is set against the backdrop of a violent and unstable Mexico. The country has been invaded by France [a army under supervision by Napoleon III] and the resulting confusion allows numerous bad guys to freely conduct their shady businesses undisturbed. Into this flux comes Lulu, a gambler hoping to score but inadvertent finding romance, only to tragically lose it.
Angry fireworks often delayed the shoot as Nicoletta Machiavelli constantly fought with her womanizing boyfriend producer Brandino Rangoni [they would break up before the movie was finished]. This was one of the first Spaghetti Westerns to feature a strong woman in the starring role but director Gian Rocco was so agitated by the dysfunctional drama around him that - simply - he lost control of his movie. At one point, Gian recruited his friend Pier Paolo Pasolini to join him on the set for advice [Pasolini had written Gian Rocco's previous film Milano Nera] but, by that point, the damage had already been done. Pasolini refused to get involved. Rocco eventually delivered a 102 minute movie to the studio but it was quickly edited down to 86 minutes for general release. Neither Gian Rocco nor Brandino Rangoni would work for a major Italian studio again.
Nicoletta Machiavelli, however, would continue to flourish as a leading lady for the next 20 years. Just previous to this film she starred in Spaghetti Westerns (THE HILLS RUN RED and NAVAJO JOE) and the quirky Invisible Man James Bond spoof MATCHLESS. Another 30+ movies followed, including CANDY and NO ROOM TO DIE. In 1985, Miss Machiavelli moved to the United States, settling in Seattle, where she taught at the University of Washington. She passed away at age 71, November 2015 in Seattle.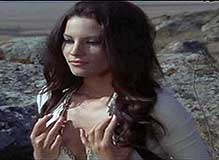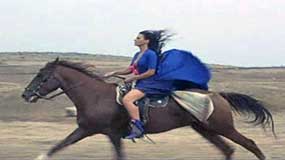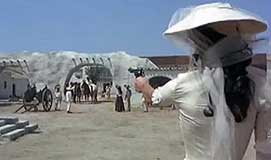 An Italian Film with optional English subtitles; widescreen, uncut (86 min.),
in DVD format, encoded for ALL REGIONS, playable on any American DVD machine.
Extras include selected theatrical trailers.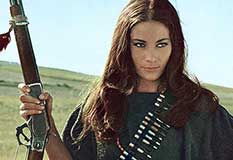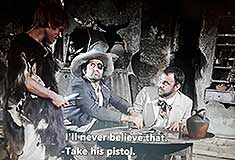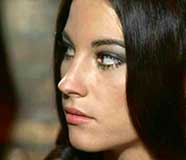 Violence/SemiNudity/Sexual Situations
Recommended For Mature Audiences