Two Complete Versions on Two Discs
Original Mexican (with English subtitles) and English Dub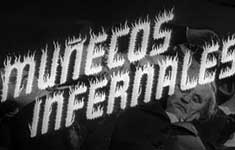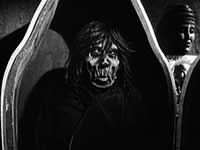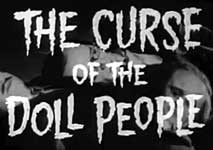 Original Mexican Title: MUÑECAS INFERNALES [Infernal Dolls]
also known as DEVIL DOLL MEN

director: Benito Alazraki [English version by K. Gordon Murray]
starring: Elvira Quintana · Ramon Gay · Roberto G Rivera · Quintín Bulnes · Nora Veryán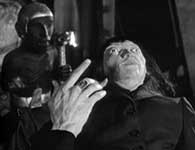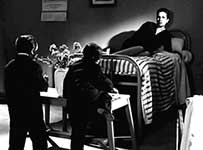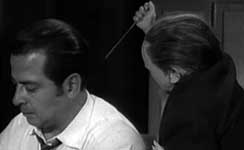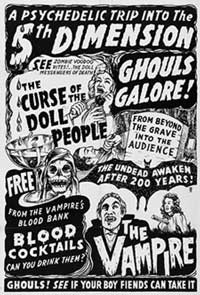 A group of men return from a trip to Haiti. While there, they attended a voodoo ritual and managed to steal a sacred idol. But before the dust had settled, the voodoo priest put a curse on them and their families. Now, everyone connected to these men are being murdered by killer dolls. This all leads to an amazing climax in the lair of the voodoo priest.
   Similar to Tod Browning's Devil Doll (1936) [without the voodoo], this film marks the beginning of Mexico's foray into horror. Its success would spur many other projects with similar themes [usually a mixture of weird science, romance and supernatural shenanigans, against a Catholic backdrop and - often - with a heroic wrestler]. Director Alazraki would follow this movie with his knockoff of Abbott and Costello Meets Frankenstein called FRANKENSTEIN, THE VAMPIRE AND COMPANY. Later in 1972, he made SANTO VS THE ZOMBIES. Mr Alazraki died from a heart attack at age 85, June 2007, after helming 40 films.
   This package contains both the original Spanish print (with optional English subtitles) and the English dubbed version, edited, but with some additional scenes shot in Miami by K. Gordon Murray.